With the holidays around the corner, it's a great time to set aside some time to play together as a family. Yes, you heard me. Play!
Play is an important part of health not just physically but emotionally and intellectually as well. And it's not just for kids!. Did you know that play releases an important hormone oxytocin both in us and in our kids? Oxytocin is an important chemical that plays a major role in bonding as well as social and emotional regulation. Play helps us not only feel good, it strengthens our connection and relationships!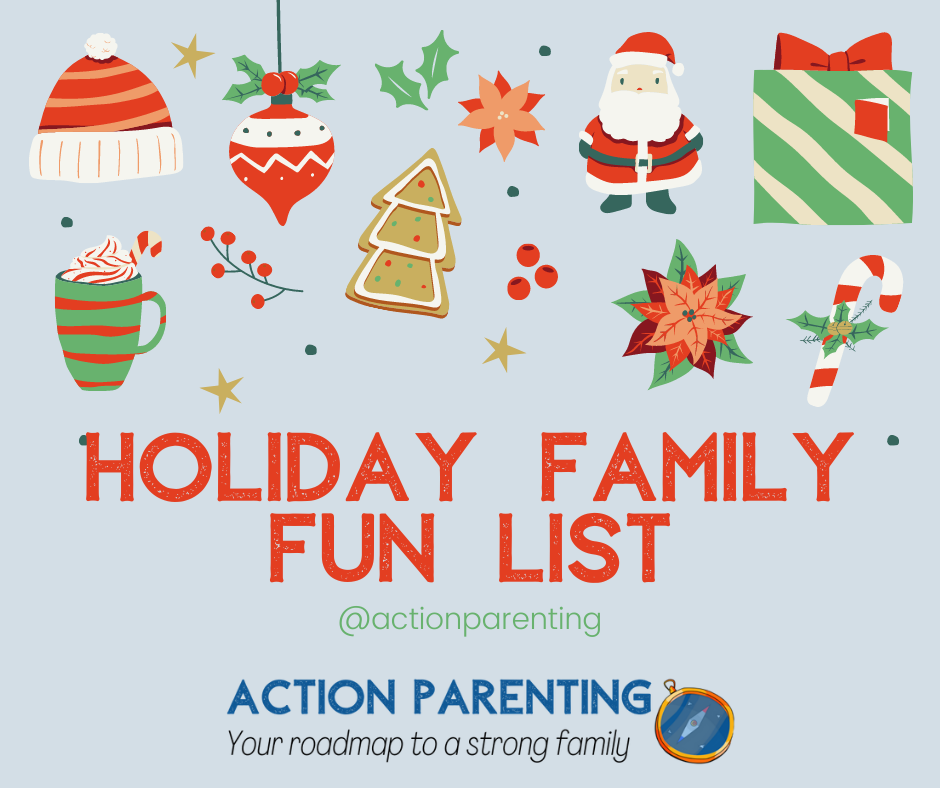 To help you and your family create some special memories this year, we've put together a "Holiday Family Fun Bucket List" for you. It's full of fun and simple ideas for play and making memories together with your family. In many of our cities, the typical holiday experiences are limited or cancelled so we've focused on activities that you can do at home. If any supplies are needed, they are easily found around the house or during a quick trip to the store. We encourage you to pick one, two, or more activities to do together as a family. 
BONUS!!!!!…TAKE a picture of you and your family playing together, POST it by December 31, and TAG Action Parenting (@actionparenting) in the post and you will be entered into a contest to WIN a FREE registration for our new online parenting class "Big Emotions and What Parents Can Do." Yes, we want to see how our online community of families play and we want to reward you for playing! I think there might be some extra benefit for play with a reward?!?!